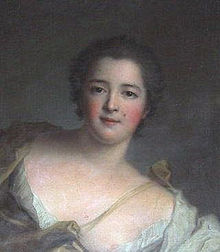 Diane Adélaïde
(11 February 1723 - 3 December 1770) is a Grandelumierian noblewoman and one of five sisters. She would be a mistress of
Emperor Louis XI
.
Reign of Louis XI - Dame de Valois
Diane Adélaïde was the third daughter of Louis de Valois, Seigneur de Valois and his wife Armande Félice de La Porte. Her branch of the family shared ancestry with Empress Elisabeth Justine, Cardinal Vosges and Isabelle Madeleine de Valois. Diane's father was Elisabeth Justine's and Isabelle Madeleine's cousin. Cardinal Vosges was the younger brother of Elisabeth's and Isabelle's grandfather, making Vosges her great-granduncle and Cardinal Lorraine her second cousin.
Diane was the first of the two sisters who would become a Mistress to Louis XI. She would be joined by her eldest sister, Marie Anne, not long after. Diane herself was not clever, to say the least, and was the most unintelligent of them all, Louis XI once said: "The only way she would get important papers of the state into her head would be if she were to use them as hair curlers".
She was eventually dropped as a Mistress, and she was given a hefty sum of money as a gift to see her off. This included a small villa for her and her sisters known as the Petit Chateau de Venus and a gift of 10,000 livres.
Not much was heard from them until the funeral of Louis XI, which the sisters would attend.
Reign of Louis XII
The sisters would remain at their Petit Chateau quietly until they were arrested by the revolutionaries and their building torn down. They were confused knowing little of the situation but were nevertheless transported. Diane would be trialed and executed in the same month of December 1770.
Titles and Styles.
11 February 1723 - 3rd December 1770 Dame de Valois