Felicite Victorie (November 3rd, 1730- March 3rd,1740) was the first child of Henri Alois and Marie Catherine the Madame Troisieme.
Early Life and Family
Felicite Victorie was born after a Mass at Saint-Etienne in 1730. Her father, the Duc dOrleans and her mother, the Madame Troisieme, were very joyous as they were happy to have a daughter. Her great-grandfather, Albertus was very happy and was determined that she be learned of court at a very young age. Before he was sent off to school, Felicite's older brother Timothee adored her and frequently played with her at Pont-de-Vaux and Vers.
Her education was influenced by both the Imperial Family and the House Lowell-Valois. She was taught to read by another courtierr. She was taught from her ancestor, Cornelius's library by her governess and various other tutors. 
Felicite was very mischievious, being know to sneak into balls under dresses and playing jokes on people. When she met her aunt Marie, Marie slapped her for her behavior. However, Felicite was very fun-loving, having played in a maze with friends and joking with the younger courtiers, even though she was relatively lonely being the only girl her age.
As a child she was adored by the court and was looked up to by many younger courtiers, including her younger brother Adrien. Even at Adrien's birth, Felicite would not leave her mother's side. As she grew to a teenager she was known as Madame l'Hiver, after one of her family's many Chateaux. She spent many an hour playing wither her younger brother and their pet dogs that were kept in Villandry and many other estates
Later Life and Legacy
In the winter of 1738, Felicite lost many of her dearest friends and relatives in the outbreaks of Smallpox and tuberculosis. Her two brothers had died by the end of November, Timothee of tuberculosis and Adrien was murdered.
On Christmas day, her mother had passed. This threw Felicite into a terrible depression that she would barely recover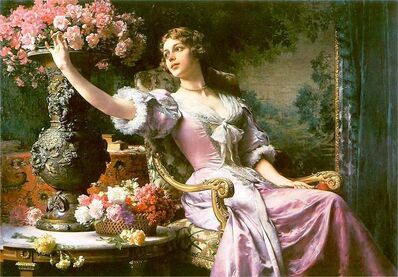 from. Her grandfather had died a few days later as well, leaving her alone with her distraught father.
However, Felicite remained composed even through the coronation of her great-aunt Sophie. She became a very calm and delicate person and was renown for her grace and elegance, even as she had fallen ill.
Unfortunately, as she recovered, things took a terrible turn. Henrie died in 1739, leaving Felicite under the protection of her Uncle Jean-Claude. As Jean was attending court, Felicite was poisoned by a servant for unknown reasons. It is believed that the poison involved was cyanide. She died suddenly on the 23rd of January, 1740. She was buried with her father in the Jardin Chinoise at Villandry until the 1741 revolution that led to the destruction of the garden. She was later moved to the crypt at Vincennes, where she is buried next to her brothers and parents.