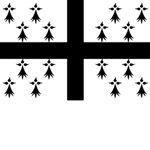 The West Brittany Trading Company was founded under an Imperial charter in late 1712 under order of Her Majesty, Empress Anastasia II. The company seeks trade and colonization opportunities for the Empire and expands its economic interest. The current Director of the Company is Jean-Claude Lowell-Valois.
Formation
The company was formed under an Imperial Charter signed by Her Majesty, Empress Anastasia II in 1712. The charter stated that Jean Philippe Lowell-Brittany would act as the head of the company and it would be overseen by a board of investors. The company continued under this organization until the Prince's death in 1736.
Reform
After his fathers death, Auguste had become slightly overwhelmed by the duties he assumed. Finally he sat down with the board and made a decision. Instead of him directly controlling the company, Auguste would instead take a more hands off approach and allow the Investors Board to take control, while he held veto powers on any of their decisions. This lasted until Auguste's eldest son, Louis Claude reached the age of 20. Louis had shown great interest in the Company and wished to become involved. During his education he excelled in math, and politics. It was the decision of the Investors Board and Auguste that his son would take the seat of Director of the Company and take official control of all future investments and actions.
A new age, a new Director, and then another
After the appointment of Regent Princess Sophie I and her Consort Prince Auguste III, in January of 1761, their son Louis Claude fell gravely ill and died suddenly. After his death, Auguste and the Investors Board appointed Henri Alois Valsoir-Beauford to the seat of Director. Upon this decision, a merge between Henri's assest and the companies took place, strengthening the resolve of the company.
Unfortunately he suffered a similar fate as Louis Claude, falling ill and dying. He left his estate and claims to his brother, and current company director, Jean-Claude Lowell-Valois.